Every ounce of the GF Series was designed with the serious baitcast angler in mind. Starting with a precision machined brass drive-train that's supported by a five stainless steel bearing system. Its low-profile, one-piece frame fits perfectly in your hand and the micro-adjustable magnetic cast control is easy to tune for any fishing condition. With a choice of three gear ratios in both right- and left-hand retrieves, there's a GF model that's right for just about any lure presentation.

• One-piece reinforced composite frame and side covers
• 4 + 1 stainless steel bearing system
• Rock-solid one-way clutch anti-reverse
• 32MM forged aluminum spool holds 110 yards of 12 lb mono
• Custom designed carbon fiber handle with EVA grips
• Multi-stack carbon fiber drag / stainless steel drag system
• Micro-adjustable magnetic cast control
• Precision hobbed hard brass pinion and drive gear
• Line memo indicator dial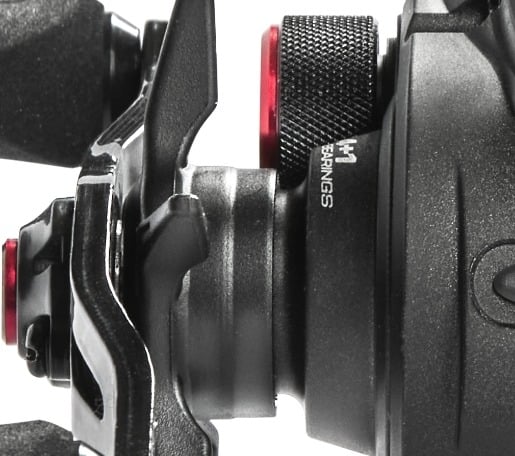 PRECISION-MACHINED DRIVETRAIN
GF reels are built for harsh conditions with CNC-machined, hard-brass gearing supported by precision stainless steel ball bearings. A stainless steel spool shaft supports the forged aluminum spool, enabling the use of braided line in the heaviest cover.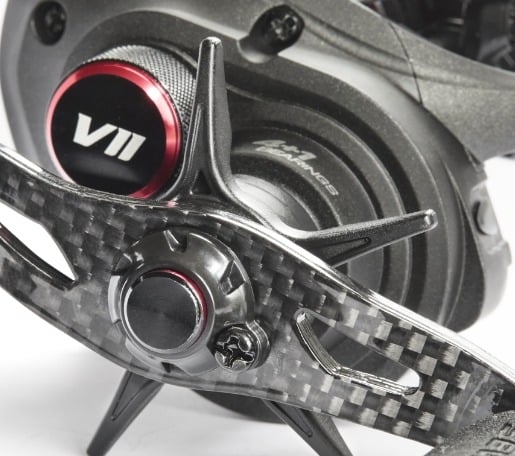 CARBON-FIBER DRAG
The friction washers in the GF drag are made from woven carbon fiber, which is virtually impervious to wear. The carbon washers are mated to stainless steel washers providing drag lockdown up to 19 lbs while remaining silky-smooth.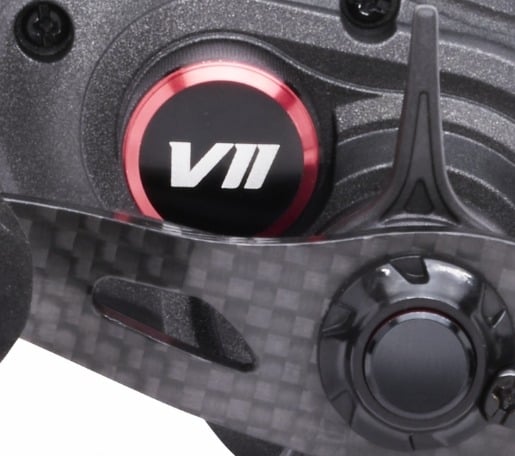 CARBON-FIBER HANDLE
The ultra-light, one-piece, carbon-fiber handle provides extreme strength under even the heaviest cranking conditions. Its sleek, swept design puts the handle knobs closer to the reel's center line, resulting in less side torque under load.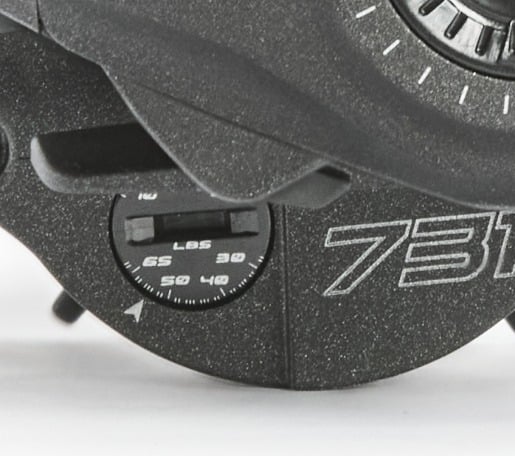 LINE MEMO
With the unique line memo dial you'll never have to guess what size line to run. Just pick your line, set the dial, and always keep tabs on line sizes as you rig your rod/reel setups for different techniques.
| Model | Size | Retrieve | Gear Ratio | Retrieve Rate | Weight(OZ) | Max Drag (LBS) | MONO CAPACITY (YDS/LB TEST) | BRAID CAPACITY (YDS/LB TEST) | APPLICATION |
| --- | --- | --- | --- | --- | --- | --- | --- | --- | --- |
| GFC166-R | 100 | RH | 6.6:1 | 26" / Turn | 7.3 | 19 | 110/12 | 100/30 | Crankbaits, spinnerbaits, chatterbaits, umbrella rigs, swimbaits |
| GFC166-L | 100 | LH | 6.6:1 | 26" / Turn | 7.3 | 19 | 110/12 | 100/30 | Crankbaits, spinnerbaits, chatterbaits, umbrella rigs, swimbaits |
| GFC173-R | 100 | RH | 7.3:1 | 28" / Turn | 7.3 | 17 | 110/12 | 100/30 | Soft plastics, Texas rigs, Carolina rigs, jigs, topwaters, jerkbaits, frogs |
| GFC173-L | 100 | LH | 7.3:1 | 28" / Turn | 7.3 | 17 | 110/12 | 100/30 | Soft plastics, Texas rigs, Carolina rigs, jigs, topwaters, jerkbaits, frogs |
| GFC181-R | 100 | RH | 8.1:1 | 32" / Turn | 7.3 | 15 | 110/12 | 100/30 | Flipping, pitching, plastics, topwaters, buzzbaits, jerkbaits, lipless cranks |
| GFC181-L | 100 | LH | 8.1:1 | 32" / Turn | 7.3 | 15 | 110/12 | 100/30 | Flipping, pitching, plastics, topwaters, buzzbaits, jerkbaits, lipless cranks |