AVAILABLE JANUARY 2024
SEVIIN'S GS Series started with a clean sheet of paper to create the ultimate spinning reel platform. From the ultra-light 750 size to the medium-size 3000, there's a model that's perfect for panfish, walleye, bass or whatever species you target. A seven-bearing system and precision-designed drivetrain delivers ultra-smooth performance, while its carbon-fiber drag stays in the fight even with the lightest line weights.
• Lightweight carbon fiber / polymer body, side cover, and rotor
• 6 + 1 stainless steel bearing system
• Forged and anodized aluminum spool with braid band
• Custom designed aluminum handle with soft-touch knob
• Multi-stack carbon fiber / stainless steel drag system
• Precision hobbed hard brass pinion and die-cast helical drive gear
• Geared Slow S-Curve oscillation system with internal support guide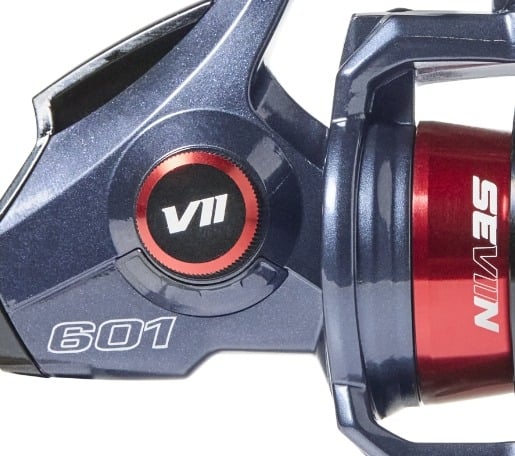 CARBON-FIBER / POLYMER CONSTRUCTION
A molded polymer body infused with carbon fiber greatly increases strength and stiffness. This provides an extremely lightweight body, side cover, and rotor system that's super rigid and won't flex under heavy loads. The entire drive train is perfectly aligned to maintain smoothness and sensitivity over time.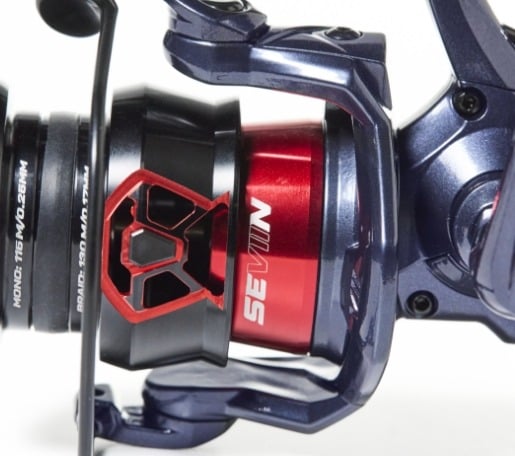 SLOW OSCILLATION SYSTEM
The S-Curve design features a super-slow oscillation that insures line is stacked evenly on the spool resulting in longer casts and fewer line management issues even when using lighter finesse size lines. An internal support guide insures spool oscillation remains consistent even under heavier drag loads.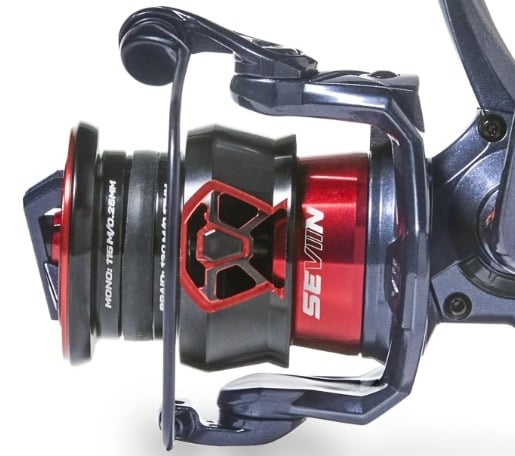 BRAID-READY FORGED SPOOL
One-piece forged aluminum spool is machined and hard anodized. The forged design minimizes weight while maintaining strength. A braid band allows the use of braid tied directly to the spool without the need for backing. A unique spool lip design maximizes casting distance by minimizing line contact during the cast.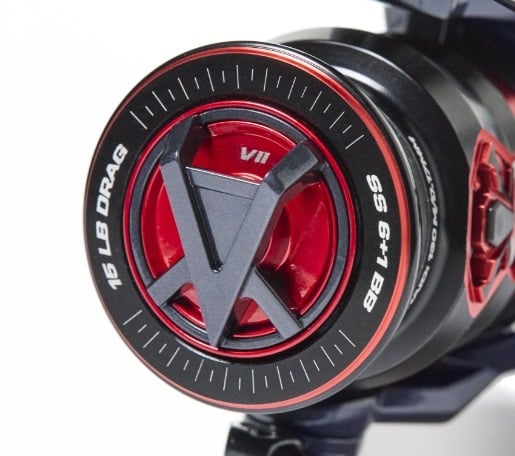 CARBON FIBER DRAG
The friction washers are made from woven carbon fiber, which is virtually impervious to wear. The carbon washers are mated to stainless steel washers providing a wide drag range with minimal variation to protect against break-offs with lighter lines.
| Model | Size | Retrieve | Gear Ratio | Retrieve Rate | Weight(OZ) | Max Drag (LBS) | MONO CAPACITY (YDS/LB TEST) | BRAID CAPACITY (YDS/LB TEST) | APPLICATION |
| --- | --- | --- | --- | --- | --- | --- | --- | --- | --- |
| GSS750 | 750 Ultralight | RH / LH | 5.2:1 | 24" / Turn | 6.7 | 9 | 110/4 | 200/6 | Small jigs, Inline Spinners, Small tubes, Small crankbaits, grubs |
| GSS1000 | 1000 Light | RH / LH | 5.2:1 | 24" / Turn | 6.7 | 9 | 125/6 | 185/8 | Jigs, Inline Spinners, Small tubes, Small crankbaits, grubs |
| GSS2000 | 2000 Medium Light | RH / LH | 6.0:1 | 32" / Turn | 7.7 | 20 | 115/8 | 120/10 | Jigs, Shaky Head, Tubes, Soft Jerkbaits, Jerkbaits, Ned rigs, wacky rigs, Neko rigs, grubs |
| GSS2500 | 2500 Medium Light | RH / LH | 6.0:1 | 32" / Turn | 7.7 | 22 | 150/10 | 185/15 | Finese jigs, jerkbaits, topwaters, shaky head, dropshot, wacky rigs, bait rigs, Ned rigs, crankbaits, small swimbaits, Neko rigs, grubs |
| GSS3000 | 3000 Medium | RH / LH | 6.0:1 | 34" / Turn | 7.9 | 22 | 165/12 | 215/20 | Finese jigs, jerkbaits, topwaters, shaky head, dropshot, wacky rigs, bait rigs, Ned rigs, crankbaits, small swimbaits, grubs |